Welcome to the Nancy J. Cohen official website. I write humorous mysteries and paranormal romance novels with a scifi or fantasy twist. Here you'll find details about my books, reviews, recipes, contests, and more. As a Florida author, the tropical images represent the settings that populate my stories. So sit back, imagine yourself in a lounge chair on the beach sipping a rum punch, and enter my world. Escape with a story that sweeps you away.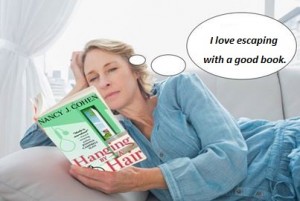 What's New?
I'm getting ready to release the Author's Edition of Murder by Manicure, #3 in the Bad Hair Day Mysteries. This title was originally published by Kensington and will be available in a revised edition with added bonus materials. Coming soon in digital and print formats.
PERIL BY PONYTAIL, #12 in the Bad Hair Day Mysteries, has a shipping date of September 16 and an on-sale date of October 7. This is my latest title from Five Star.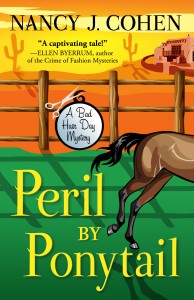 Saddle up and set your sights for Marla's honeymoon in the Wild West where a Bad Hair Day is the least of her worries.
"Peril by Ponytail ropes in the reader in Nancy J. Cohen's captivating new tale, which deftly braids together deadly secrets under the sand, long hidden resentments, and romance on the range."—Ellen Byerrum, Author of the Crime of Fashion Mysteries
Recent Releases
Hanging By A Hair (Bad Hair Day Mystery #11)
Marla's joyous move to a new house with her husband, Detective Dalton Vail, is marred by their next-door neighbor who erects an illegal fence between their properties. When Dalton reminds the man of the local permitting laws, tempers flare—and worse, the neighbor is found dead the following day.
Watch for the mass market edition  coming from Worldwide Mystery Library in May!
"A pleasingly lighthearted cozy." —Publisher's Weekly
"The suspense element in this unusually funny mystery is gripping."—Florida Weekly
"Funny, quirky, fast-paced with just the right amount of romance and humor mixed in with the mystery."—Socrates Book Reviews
Amazon Kindle
Amazon Hardcover
Amazon Large Print
Barnes and Noble
International
Paperback Edition
Shear Murder (Bad Hair Day Mystery #10)
Weddings always make Marla Shore shed a tear of joy, and she's elated to attend her friend Jill's reception. Marla's own nuptials are weeks away, and she's busy following her frenetic to-do list. Her plans go awry when she discovers Jill's matron of honor dead under the cake table, a knife embedded in her chest. Now what will the bride use to cut the cake?
"Smart, edgy dialogue and an intriguing cast of characters lift Cohen's 10th Bad Hair Day mystery featuring South Florida hairstylist Marla Shore. Once again, Marla shows she's as adept at investigating murder as she is managing her hair salon." –Publishers Weekly
"Mix together a sassy hairdresser with a penchant for sleuthing, a sexy detective and some eccentric friends and neighbors; stir in an unconventional murder or two, bake in the South Florida sun, and you have the makings of Nancy J. Cohen's delicious 'Bad Hair Day' mystery series."–The Island Reporter
Amazon Kindle
Amazon Hardcover
Barnes and Noble
International
Large Print
Paperback Edition
Hair Raiser (Reissue Bad Hair Day #2)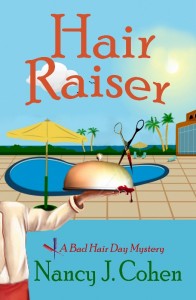 Hair Raiser, #2 in the Bad Hair Day mystery series, is now available in an updated and revised Author's Edition on Kindle, iBooks, Kobo and Nook. You can also buy this book in a beautiful Print version.
Writing the Cozy Mystery
Do you want to write a mystery but don't have a clue where to start? Or maybe you've begun a story but are stuck on the plot? Perhaps you're already writing a series, and you need tips on how to keep track of your material? This concise tool will show you step-by-step how to develop your characters, establish the setting, plot the story, add suspense, plant clues and sustain your series. You'll find everything you need to know in an easy-to-read, clear manner to write your own whodunit.
"Easy to read and chock full of useful information." —Muddy Rose Reviews
"Highly recommended for the budding cozy author." —A. Nightshade
"An absolutely top-notch book for anyone interested in writing a wonderful mystery." —T. Wescott
Amazon Kindle
Barnes and Noble
Kobo
Contests
Booklover's Bench, March 4-18
Win a $25 Amazon/BN gift card or a free book by Booklover's Bench authors http://bookloversbench.com/contest/
Newsletters
If you would like to receive my quarterly email newsletters, including author news, recipes, and bonus subscriber contests, please fill out my signup form or send a message with your first and last name and email address to nancy@nancyjcohen.com
Thanks for stopping by!
Author Photo by Bob Lasky
Request My Autograph for your Ebook Device

© 2015 All Rights Reserved