Welcome to the Nancy J. Cohen official website. I write humorous mysteries and paranormal romance novels with a scifi or fantasy twist. Here you'll find details about my books, reviews, recipes, contests, and more. As a Florida author, the tropical images represent the settings that populate my stories. So sit back, imagine yourself in a lounge chair on the beach sipping a rum punch, and enter my world. Escape with a story that sweeps you away.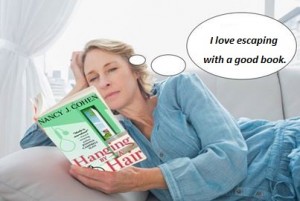 Upcoming Release
Peril by Ponytail (Bad Hair Day Mystery #12)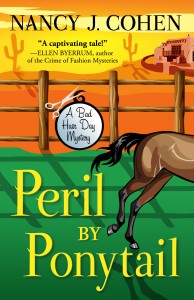 Peril by Ponytail is available for pre-order and will be released on Sept. 16, 2015 from Five Star.
Marla and Dalton's honeymoon at an Arizona dude ranch veers from dangerous to downright deadly faster than a horse headed to the corral. With her husband's uncle—the resort's owner—on the suspect list for murder, Marla races to prove his innocence. She hopes her blind trust isn't misplaced, especially when she learns their relative has secrets he'd rather keep buried. As the bodies pile up, she digs deeper to find the killer. With her new family in jeopardy, she'd better figure out who's adding to the spirits at a nearby ghost town before someone she loves is hurt.
"Cozy fans will have fun."—Publishers Weekly
"Nancy J. Cohen once again delivers a delightful cozy mystery with the latest escapades of Marla and her partner Dalton." —PaulineMichael, Night Owl Reviews
"This is a good addition to Cohen's long-running series. The heroine is in fine form and … the slight bit of paranormal activity adds a nice touch."—Susan Mobley, RT Book Reviews
Read an Excerpt
View the Video Trailer
Order at Amazon
Order at Barnes and Noble
Order a Signed Copy at Murder on the Beach
Read More Reviews
Recent Releases
Hanging By A Hair (Bad Hair Day Mystery #11)
Marla's joyous move to a new house with her husband, Detective Dalton Vail, is marred by their next-door neighbor who erects an illegal fence between their properties. When Dalton reminds the man of the local permitting laws, tempers flare—and worse, the neighbor is found dead the following day.
**Order the mass market edition  from Worldwide Mystery Library
"A pleasingly lighthearted cozy." —Publisher's Weekly
"The suspense element in this unusually funny mystery is gripping."—Florida Weekly
"Funny, quirky, fast-paced with just the right amount of romance and humor mixed in with the mystery."—Socrates Book Reviews
Amazon Kindle
Amazon Hardcover
Amazon Large Print
Barnes and Noble
International
Paperback Edition
Body Wave (Reissue Bad Hair Day #4)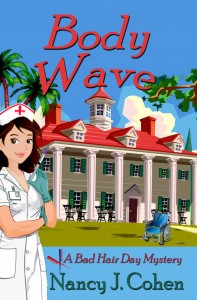 Stylist Marla Shore goes undercover in a hair-brained scheme to catch a killer in her latest South Florida adventure. In a story braided with unexpected twists and curls, she takes on a role as nurse's aide for wealthy Miriam Pearl. While Marla snoops into the elderly matriarch's affairs, her boyfriend, Detective Dalton Vail, is afraid that the only affair she'll snag is with her ex-spouse, Stan. Juggling work at her salon, crime solving, and two amorously inclined males, Marla fights a race against time to save Stan before the dashing detective nails him for murder.
This title, originally published by Kensington, is available in an updated and revised Author's Edition on Kindle, iBooks, Kobo, Nook and in a new Print edition.
"Ms. Cohen's plot has more twists than a French braid, and Marla is a shear delight." Joanne Fluke, author of the Hannah Swensen mysteries
"In Nancy J. Cohen's fourth bubbly Bad Hair Day mystery, Florida hairdresser Marla Shore agrees to help her snake of an ex husband, Stan Kaufman, who's been arrested for the murder of his third wife, Kimberly, find the real killer." Publishers Weekly
Murder by Manicure (Reissue Bad Hair Day #3)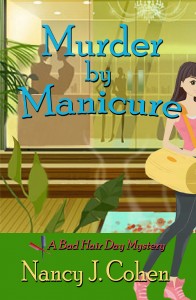 Hairstylist Marla Shore joins a fitness club to get in shape but discovers a dead body instead of an exercise routine. Jolene Myers—a client at Marla's salon—has drowned beneath the frothing waters of the whirlpool. When Homicide Detective Dalton Vail determines Jolene's death was no accident, Marla decides to give her deductive skills a workout and help solve the case.
This title, originally published by Kensington, is available in an updated and revised Author's Edition on Kindle, iBooks, Kobo, Nook, and in Print.
"Marla Shore is a beguiling, very clever sleuth who teases out every clue. Absolutely delightful!" Jill Churchill, author of the Jane Jeffry & Grace and Favor mystery series.
"Cohen fashions her Bad Hair Day series with plenty of humor, snappy repartee and even a healthy helping of current events." The News Press

"This series is hilarious and very enjoyable and contains many hijinks." The Best Reviews
Hair Raiser (Reissue Bad Hair Day #2)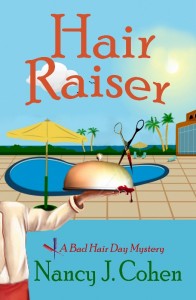 When savvy hairstylist Marla Shore volunteers for a fund-raiser, she has to comb through a knot of suspects to determine who's sabotaging the gala event. Participating chefs are dropping off the roster like hot rollers, and it's only through a series of hair-raising exploits that the brazen beautician can tease the truth from them. Too late to stop a murder, Marla must salvage the grand affair before she's moussed into oblivion.
This title, originally published by Kensington, is now available in an updated and revised Author's Edition on Kindle, iBooks, Kobo, Nook and in Print .
"Hair Raiser kept me guessing until the very end. Hats off to Nancy Cohen and her engaging sleuth, Marla the hairdresser!" Laurien Berenson, author of the Melanie Travis mystery series
"Curl up with Nancy Cohen's stylishly witty and chillingly suspenseful tale of murder on the Florida coast—Hair Raiser is a cut above." Joanne Pence, author of the Angie Amalfi mystery series
"Hair Raiser is a delightfully saucy tale of sabotage, murder, and culinary chaos." Fabulous Florida Writers

"Nancy J. Cohen gives romance and mystery fans a heady concoction to savor." 4-1/2 stars Top Pick! Nominated for a Reviewer's Choice Award by RT Book Reviews
Writing the Cozy Mystery
Do you want to write a mystery but don't have a clue where to start? Or maybe you've begun a story but are stuck on the plot? Perhaps you're already writing a series, and you need tips on how to keep track of your material? This concise tool will show you step-by-step how to develop your characters, establish the setting, plot the story, add suspense, plant clues and sustain your series. You'll find everything you need to know in an easy-to-read, clear manner to write your own whodunit.
"A useful guide and ready reference, this book offers a good set of tools to demystify the making of a mystery." Roy T. James, Readers' Favorite
"This book is well organized and cuts right to the chase. Throughout are exercises to help you create the cast of characters and make decisions about the clues and setting. When I'm ready to write my cozy, this will be a terrific tool set to use." Five Stars! Ronda Del Boccio, the Story Lady at Write on Purpose

"With Writing the Cozy Mystery, Nancy presents an easy-to-follow and engaging framework to developing your own cozy mystery, stand-alone or series. Her expertise in the area lends credence to the useful tips throughout the book." DL Fernandez, DLF Writing
Amazon Kindle
Barnes and Noble
Kobo
iBooks
International
Print Edition
Contests
Name a Character in my next Bad Hair Day Mystery! Or, win one of two runner-up prizes: a signed paperback of Hanging by a Hair and a deck of Marco Island Playing Cards, or a signed paperback of Shear Murder and a deck of Tropical Drink Playing Cards. Enter Here.

Newsletters
If you would like to receive my quarterly email newsletters, including author news, recipes, and bonus subscriber contests, please fill out my signup form or send a message with your first and last name and email address to nancy@nancyjcohen.com
Thanks for stopping by!
Author Photo by Bob Lasky
Request My Autograph for your Ebook Device


© 2015 All Rights Reserved