JOIN AUTHOR NANCY J. COHEN
   
IN PERSON
June 29, Saturday, 10:00 – 12:00 noon, "How to Get Published in a Traditional Market" with Nancy J. Cohen, Florida Authors Academy, Murder on the Beach Mystery Bookstore, 273 NE 2nd Avenue, Delray Beach, FL  33444, 561-279-7790, www.murderonthebeach.com, Fee for class; advance reservations required.
Sept. 16, Monday, Friends of the Library Meeting Speaker, Helen B. Hoffman Library, 501 North Fig Tree Lane, Plantation, FL 33317, 954-797-2140
November 14, Thursday, 11am, Jewish Book Month Author Luncheon, Soref JCC, 6501 West Sunrise Blvd, Plantation, FL, 33313. 954-792-6700

ONLINE BLOG TOUR
April 23 Spotlight
The Revolving Book
April 26 Release Day!
Nancy's Notes from Florida
April 30 Guest Blog: Brain Games
Terry's Place
May 2 Author Interview
Love in a Book

May 8 Guest Blog: Self-Discipline for the Writer
The Kill Zone
May 6-20, Bewitching Book Tours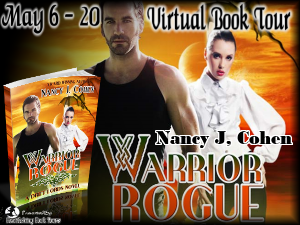 Prize Drawings from all blog commenters for a $25 Amazon or BN gift card and ebook copies of Keeper of the Rings
May 6 Spotlight & Book Review
Jessica Loves Books
May 7 Author Interview
Pembroke Sinclair
May 8 Spotlight
2 Bibliophilies Guide to Seriously Awesome Books
May 9 Author Interview
The Creatively Green Write at Home Mom
May 10 Author Interview
Roxanne's Realm
May 13 Author Interview
Fang-tastic Books
May 14 Book Review
Musings & Ramblings
May 15 Spotlight
Eclipse Reviews
May 16 Spotlight & Book Review
Faerie Tale Books
May 17 Guest Blog: Legend of Sigurd
Paranormal Romance Fans for Life
May 17 Guest Blog: Meet the Drift Lords
Preternatura
May 20 Spotlight
Brianna Lee Book Reviews
May 20 Book Review
Eclipse Reviews
<><><>
June 17 A Day in the Spotlight
http://4covert2overt.blogspot.com/
June 23 Guest Blog
Happily Ever After Thoughts
http://www.happilyeverafterthoughts.com
August 5 Guest Blog
http://cynthiawoolf.com/blog/
<><><>
If you would like to schedule an appearance with the author, please contact her at nancy@nancyjcohen.com or view her Speaker Proposal page.