Writing the Cozy Mystery by Nancy J. Cohen
Print ISBN: 978-0-9914655-1-4, Orange Grove Press, $6.99
Digital ISBN: 978-0-9914655-0-7, Orange Grove Press, $0.99
How to Write a Winning Whodunit
Do you want to write a mystery but don't have a clue where to start? Or maybe you've begun a story but are stuck on the plot? Perhaps you're already writing a series, and you need tips on how to keep track of your material? This concise tool will show you step-by-step how to develop your characters, establish the setting, plot the story, add suspense, plant clues and sustain your series. You'll find everything you need to know in an easy-to-read, clear manner to write your own whodunit.
"A useful guide and ready reference, this book offers a good set of tools to demystify the making of a mystery." Roy T. James, Readers' Favorite
"Easy to read and chock full of useful information." —Maggie Toussaint, Muddy Rose Reviews
"This book is well organized and cuts right to the chase. Throughout are exercises to help you create the cast of characters and make decisions about the clues and setting. When I'm ready to write my cozy, this will be a terrific tool set to use." Five Stars! Ronda Del Boccio, the Story Lady at Write on Purpose

"With Writing the Cozy Mystery, Nancy presents an easy-to-follow and engaging framework to developing your own cozy mystery, stand-alone or series. Her expertise in the area lends credence to the useful tips throughout the book." DL Fernandez, DLF Writing
"An absolutely top-notch book for anyone interested in writing a wonderful mystery." —T. Wescott
Thumbs Up by Harry I. Heller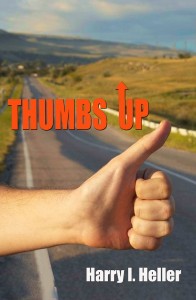 Adventures of a hitchhiker on a 12,000 mile journey across the U.S. in 1929

Digital Edition,  978-0-9914655-2-1, Orange Grove Press, $4.99
Print Edition,  978-0-9914655-3-8, Orange Grove Press, $14.99
This book, written by my father, is dear to my heart. It's a tribute to his courage and spirit of adventure.

After taking his exams for the New Jersey Bar, twenty-four year old Harry I. Heller set off on a hitchhiking cross-country adventure. Relying upon his wits and not his wallet, he traveled across the United States without paying a dime for transportation. In the days when a job paid one dollar and seventy five cents per day and seeing a movie cost ten cents, he hitchhiked his way from New Jersey to California. Among his many escapades, he got lost in the Yosemite Mountains, confronted hungry bears, raced downhill in a moving van with burnt-out brakes, jumped on a speeding train and climbed Pike's Peak on foot. This true coming-of-age tale shows the courage, fortitude, and determination of a young man following his dream and learning to rely solely on himself.
"I had covered more than twelve thousand miles, been through many states, and had been footsore, cold, hot, homesick, lonely and hungry. I had tasted all possible sensations with varying results and had escapes from death so narrow, that I even yet wonder how I came through them unharmed. I paid not one cent for transportation but thousands of them for shoe leather."
Thumbs Up is an inspirational travel adventure about a hitchhiker's journey across America that offers a glimpse into our nation's past. It'll make readers nostalgic for this era and more appreciative of family, friends and home.