Welcome to the Nancy J. Cohen official website. I write humorous mysteries and paranormal romance novels with a scifi or fantasy twist. Here you'll find details about my books, reviews, recipes, contests, cool links, and more. As a Florida author, the tropical images represent the settings that populate my stories. So sit back, imagine yourself in a lounge chair on the beach sipping a rum punch, and enter my world.
What's New?

Hanging By A Hair is now available! Meanwhile, I have finished Peril by Ponytail, #12 in the Bad Hair Day Mysteries, and turned it in to my editor.
On the romance front, I love the sexy cover for Warrior Lord, #3 in the Drift Lords Series from Wild Rose Press. And I'm thrilled that Warrior Rogue is a Finalist in the Carolyn Readers Choice Awards!
Plus, I am pleased to announce the release of my first nonfiction title, Writing the Cozy Mystery. This instructional guide will help you write your own whodunit.
Recent & Upcoming Titles
Hanging By A Hair (Bad Hair Day Mystery #11)
Marla's joyous move to a new house with her husband, Detective Dalton Vail, is marred by their next-door neighbor who erects an illegal fence between their properties. When Dalton reminds the man of the local permitting laws, tempers flare—and worse, the neighbor is found dead the following day. Dismayed when Dalton is removed from the case due to a conflict of interest, Marla decides it's up to her to find the killer.

"A pleasingly lighthearted cozy." —Publisher's Weekly
"Clues abound, as do quirky characters, wonderfully described South Florida settings, intriguing insights into the beauty salon business and into the wild world of Florida home-owning communities, and flavorful recipes. All in all, Hanging by a Hair is entertaining, enjoyable, and informative."— Stephanie Saxon Levine, Murder on the Beach Mystery Bookstore
View the Book Trailer
Read Reviews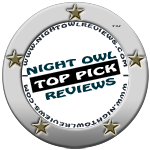 ISBN 978-1-4328-2814-1, Five Star, April 18, 2014
Order Hardcover Edition at Barnes & Noble or Amazon
Order for Amazon Kindle

Shear Murder (Bad Hair Day Mystery #10)
Weddings always make Marla Shore shed a tear of joy, and she's elated to attend her friend Jill's reception. Marla's own nuptials are weeks away, and she's busy following her frenetic to-do list. Her plans go awry when she discovers Jill's matron of honor dead under the cake table, a knife embedded in her chest. Lots of folks aren't sorry to see Torrie go, especially since the bride's sister knew their deepest secrets. But when suspicion falls upon Jill, Marla wonders if her dear friend is truly innocent. She'd better untangle the snarl of suspects and iron out the clues before the killer highlights her as the next victim.
"Smart, edgy dialogue and an intriguing cast of characters lift Cohen's 10th Bad Hair Day mystery featuring South Florida hairstylist Marla Shore. Once again, Marla shows she's as adept at investigating murder as she is managing her hair salon." –Publishers Weekly
"Mix together a sassy hairdresser with a penchant for sleuthing, a sexy detective and some eccentric friends and neighbors; stir in an unconventional murder or two, bake in the South Florida sun, and you have the makings of Nancy J. Cohen's delicious 'Bad Hair Day' mystery series."–The Island Reporter
Mass Market Edition coming in August!
For more details, visit my Mysteries page.
Warrior Lord (Drift Lord Series #3)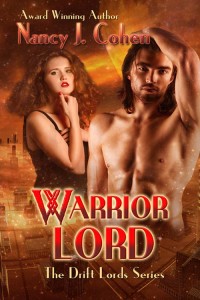 A fantasy wedding in Las Vegas turns into a nightmare when contest winner Erika Sherwood realizes she's married an alien.
Pottery sculptor Erika Sherwood has no idea her televised wedding in Las Vegas is for real until an official confirms she and the stranger she's just met are legitimately wed.
A Drift Lord and warrior of the Tsuran, Magnor tricks the redhead into marriage because she's one of six women prophesied to save Earth. But as he's forced into her company in their race against the apocalypse, he wonders if he risks his heart more than his life.
Can a free-spirited ceramic artist and a fierce swordsman trust each other enough to prevent disaster?
Coming Soon from Wild Rose Press!
Warrior Rogue (Drift Lords Series #2)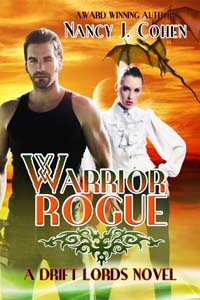 When fashion designer Jennifer Dyhr loses her lead actor for a video-game commercial, a replacement literally drops from the sky. Reluctant to let him leave, she hires him as a model for her studio. But when terrorists attack their flight home, Jen must awaken powers she didn't know she had to protect them both. Now will she be able to keep her heart safe from the sensual man beside her?
When space ops warrior Paz Hadar falls through a spatial rift onto Jen's set, he soon realizes she is essential to his mission. Not only must he protect her, his success depends upon her special powers. But as they struggle to stay one step ahead of the enemy, he discovers that fighting his attraction to the lovely Jen is as much a challenge as keeping them both alive.
"There is never a dull moment in this action-packed sci-fi fantasy. With a liberal dose of steamy romance thrown in, this tale is sure to keep you engrossed to the very end."
View the Book Trailer
Pinterest Vision Board
FINALIST in the Carolyn Readers Choice Awards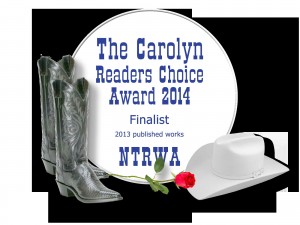 For more details and buy options, visit my Romances page.
 Warrior Prince (Drift Lords Series #1)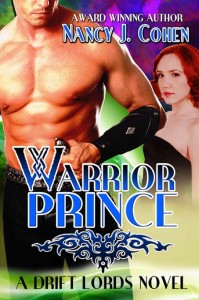 When mythologist and Florida resident Nira Larsen accepts a job as tour guide for a mysterious stranger, she's drawn into a nightmare reality where ancient myths come alive and legendary evils seek to destroy her. To survive, she must awaken her dormant powers, but the only person who can help is the man whose touch inflames her passion.
After a dimensional rift in the Bermuda Triangle cracks open and an ancient enemy invades Earth, Zohar-leader of the galactic warriors known as the Drift Lords-summons his troops. He doesn't count on a redheaded spitfire getting in his way and capturing his heart. Nira has the power to defeat the enemy and to enslave Zohar's soul. Can he trust her enough to accomplish his mission, or will she lure him to his doom?
"An urgent quest to save humanity leads to surprising adventures and dangerous passion! Nancy J. Cohen has penned a wild ride that will leave readers breathless and eager for more!" -Allison Chase, author of Recklessly Yours

Pinterest Vision Board
For more details, visit my Romance page.
View the Book Trailer

BUY NOW at the  Wild Rose Press
 Buy for the NOOK at Barnes and Noble
Writing the Cozy Mystery
Do you want to write a mystery but don't have a clue where to start? Or maybe you've begun a story but are stuck on the plot? Perhaps you're already writing a series, and you need tips on how to keep track of your material? This concise tool will show you step-by-step how to develop your characters, establish the setting, plot the story, add suspense, plant clues and sustain your series. You'll find everything you need to know in an easy-to-read, clear manner to write your own whodunit.
"Easy to read and chock full of useful information." —Muddy Rose Reviews
"Succinct and informative…this book uses its brief word count to its fullest potential. Highly recommended for the budding cozy author." —A. Nightshade
"An absolutely top-notch book for anyone interested in writing a wonderful mystery." —T. Wescott



Contests
Enter April 1-30 to win a Hanging By A Hair T-shirt and door hanger, plus a signed copy of Shear Murder at FreshFiction.com. http://freshfiction.com/contest.php?id=6389
Newsletters
If you would like to receive my quarterly email newsletters, including author news, recipes, and bonus subscriber contests, please fill out my signup form or send a message with your first and last name and email address to nancy@nancyjcohen.com
Thanks for stopping by!
Author Photo by Bob Lasky
  Request My Autograph for your Ebook Device
© 2013  All Rights Reserved