The Bad Hair Day Mysteries
Coming Next on October 7, 2015: Peril by Ponytail (Bad Hair Day Mystery #12)
<><><>
Hanging By A Hair (Bad Hair Day Mystery #11)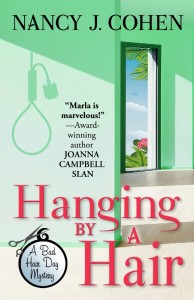 Hardcover 978-1-4328-2814-1, Five Star, April 18, 2014
Kindle ASIN: B00JJ2XVUQ, Five Star, $3.99, April 18, 2014
Large Print: 978-1410470812, Wheeler Publishing, Sept. 10, 2014

Amazon Kindle
Amazon Hardcover
Amazon Large Print
Amazon UK
Barnes and Noble
International
Order a Signed Print Copy at Murder on the Beach Mystery Bookstore
Marla and Dalton Vail move into their new neighborhood and discover a murder next door.
Marla's joyous move to a new house with her husband, Detective Dalton Vail, is marred by their next-door neighbor who erects an illegal fence between their properties. When Dalton reminds the man of the local permitting laws, tempers flare—and worse, the neighbor is found dead the following day. Dismayed when Dalton is removed from the case due to a conflict of interest, Marla decides it's up to her to find the killer.

"Marla Vail, a hairdresser in Royal Oaks, Fla., tackles married life and a slimy homeowners' association in Cohen's cheerful 11th series entry." Publisher's Weekly
"The author is always keeping you guessing as to where the story will lead you next. Ms. Cohen has just joined the list of my favorite authors and I look forward to reading the other books she has written. I hope you find Hanging by a Hair as great as I did."  Top Pick 5 Stars!  Night Owl Reviews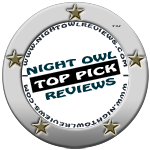 Shear Murder (Bad Hair Day Mystery #10)

Hardcover: 978-1-4328-2554-6, $25.95, Five Star , Jan. 18, 2012
Large Print: 978-1-4104-4653-4, $25.99, Wheeler, March 22, 2012
Kindle ASIN: B00CBDRGQU, $3.99, Five Star, Feb. 8, 2012
Mass Market: 978-0-3732-6909-9, Worldwide Mystery Library, $7.99, August 2014
Amazon Kindle
Amazon Hardcover
Barnes and Noble
International
Paperback Edition at Worldwide Mystery Library
Murder on the Beach Mystery Bookstore Bestseller
Who knew weddings could be murder? Hairstylist Marla Shore is weeks away from becoming a bride herself when she walks down the aisle as a bridesmaid at her friend Jill's ceremony. Things take a turn for the worse when the matron of honor ends up dead, the cake knife in her chest. Now what will they use to cut the cake?
"Smart, edgy dialogue and an intriguing cast of characters lift Cohen's 10th Bad Hair Day mystery featuring South Florida hairstylist Marla Shore." Publishers Weekly
"Who knows more about the wedding party than your hairdresser? Welcome back south Florida's Marla Shore, who trips over the dead matron of honor in her tenth cozy." Library Journal
"Interesting characters and South Florida scenery make "Shear Murder" a cut above other amateur sleuth mysteries." Sun-Sentinel
"The action is fast-paced, the situations and characterizations provide plenty of this author's trademark humor. " Florida Weekly
Killer Knots (

Bad Hair Day Mystery #9)

  
Murder on the Beach Mystery Bookstore Bestseller
Troubled waters lie ahead when hairstylist Marla Shore and her fiancé Dalton Vail sail away on their first Caribbean cruise.
"Fans of vacation mysteries will enjoy watching Marla find her way through this light whodunit." Publisher's Weekly
"Overeating isn't the only danger when a Florida hairdresser and her fiancé take a Caribbean cruise…When passengers start to disappear, Marla suspects lobster thermidor isn't the only thing aboard that's not kosher."  Kirkus Reviews
"Cohen's latest Marla Shore novel shines with the compelling drama of an old-fashioned whodunit. A cruise ship is the perfect setting for this closed-door mystery." RT BOOK Reviews
Perish By Pedicure (

Bad Hair Day Mystery #8)

Murder on the Beach Mystery Bookstore Bestseller
Just as her fiancé Detective Dalton Vail's uptight former in-laws descend on her home, Marla is up to her roots in a big‑time beauty show that could make or break her career.
"Plantation author Nancy J. Cohen's series about amateur sleuth and hair salon owner Marla Shore gives readers an inside view of the beauty business while also focusing on South Florida scenery." Sun‑Sentinel
"All of Cohen's fast-paced books are full of twists and turns, great characters, and interesting settings. The chatty prose pulls you into the swirl of Marla's Jewish family and her community activities. This likable amateur sleuth handles a curling iron and murder clues with equal aplomb in this stylish series."News Sun
"PERISH BY PEDICURE is filled with hair splitting humor, unexpected nail biting twists, and a bad hair week caused by future in‑laws while Marla cuts to the roots of the case."  Midwest Book Review
Dead Roots (

Bad Hair Day Mystery #7)

Independent Mystery Bookstore Association Bestseller List
Murder on the Beach Mystery Bookstore Bestseller
Marla's family reunion at a haunted Florida resort turns up dead bodies instead of fond memories. She and her fiancé, Detective Dalton Vail, launch another murder investigation in the midst of Thanksgiving dinner.
"Well‑developed characters and an intriguing historical background enhance this winning cozy."  Publishers Weekly
"Ghost stories, nifty secret passages, tales of gemstones and family secrets enliven this tale." Sun-Sentinel
"Condemned wings of the hotel, secret passages, and a gaggle of paranormal experts investigating the resident ghosts, all add up to a frenetic mixture of mirth and mayhem." I Love A Mystery
Died Blonde (

Bad Hair Day Mystery #6)


Murder on the Beach Mystery Bookstore Bestseller
Marla stumbles over her rival's body in the meter room behind their competing salons.  Her boyfriend, hunky Detective Vail, asks for her help in solving the murder.
"Died Blonde is a thoroughly enjoyable mystery, and one which you won't want to miss!" Murder on the Beach Mystery Bookstore
"Another bright addition to a charming series."  Library Journal
"The sixth of Cohen's Bad Hair Day series featuring hairdresser/shop owner Marla Shore is just as charming and as good a murder mystery as the others." Pittsburgh Post-Gazette
Highlights To Heaven (

Bad Hair Day Mystery #5)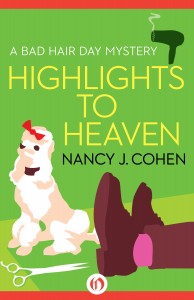 Independent Mystery Booksellers Association Bestseller
Murder on the Beach Mystery Bookstore Bestseller

Marla lands a case close to home when her pet‑loving neighbor named Goat disappears, leaving his animals alone and a dead body in his master bedroom.
"Lively fun." Library Journal
"A great addition to a delightful series." Mystery Lovers Bookshop
"If you want a mind‑candy read somewhat reminiscent of Evanovich's Stephanie Plum series, you'll enjoy Highlights to Heaven by Nancy J. Cohen." Duffbert's Random Musings.
"Fun Florida settings and adorable eccentrics make a popular series." Inkwood Books
Body Wave (

Bad Hair Day Mystery #4)


 Murder on the Beach Mystery Bookstore Bestseller
Marla goes undercover as a nurse's aide for wealthy Miriam Pearl to investigate her granddaughter's murder. While Marla snoops into the elderly matriarch's affairs, her friend Detective Vail is afraid the only affair she'll snag is with her ex-spouse, Stan.
"Nancy J. Cohen has a knack for writing mysteries that keep readers guessing right up to the final pages." City Link
"When it comes to hair-raising tales of murder and mayhem, Nancy J. Cohen's wonderfully wry Bad Hair Day mysteries are second to none." Barnes & Noble Ransom Notes
"The Bad Hair Day mysteries have been noted for their humor, quick pacing and an intelligent amateur sleuth. Author Nancy J. Cohen continues to offer a refreshing and fun series." Creatures 'n Crooks Bookshoppe
*Ebook Edition Coming Soon
Murder By Manicure (

Bad Hair Day Mystery #3)

 Independent Mystery Booksellers Association Bestseller
Marla joins a fitness club to get in shape, but she finds a murder instead of an exercise program. To complicate matters, Detective Dalton Vail disapproves of the charade she's playing to help a friend.
"Observations about makeup, hair, and apparel mix with humorous, sexy overtones and catty remarks.  A solid series addition."  Library Journal
"An amusing, well‑paced mystery." Kirkus Reviews
"Cohen fashions her Bad Hair Day series with plenty of humor, snappy repartee and even a healthy helping of current events…Marla's extensive knowledge of hairstyles, grooming and fashion help her weave the clues together to solve the mystery." Fort-Myers News-Press

"In Murder by Manicure, a southern sleuth who's a cut above the rest pulls out all the stops to wrap up another nail-biting murder that will leave readers eagerly awaiting their next appointment with Marla Shore." Barnes & Noble Ransom Notes
*Ebook Edition Coming Soon

 

Hair Raiser (

Bad Hair Day Mystery #2

)

Nominated by Romantic Times Magazine for a Reviewer's Choice Award
Beauty salon owner Marla Shore volunteers for Ocean Guard, a coastal preservation society. When someone sabotages their gala fund-raiser, she must comb through a knot of suspects to unmask a killer.
"A saucy murder mystery by Nancy J. Cohen." Publishers Weekly
"An easy-to-take series title with the ready appeal of an independent female sleuth and colorful Florida settings." Library Journal

"The mystery is great, the dialogue sparkling, and the sexual tension runs rampant in HAIR RAISER…Nancy J. Cohen gives romance and mystery fans a heady concoction to savor." 4-1/2 stars and a Top Pick!  Romantic Times
"HAIR RAISER is curled around a likable amateur sleuth who can handle a curling iron and murder clues with aplomb…Cohen is on her way to a stylish series." Sun-Sentinel
*Ebook Edition Coming Soon
 

Permed To Death (

Bad Hair Day Mystery #1)

Hairstylist Marla Shore is giving grumpy Mrs. Kravitz a perm when her client croaks in the shampoo chair. If that isn't enough to give her a bad hair day, handsome Detective Vail suspects Marla of poisoning the woman's coffee creamer.
 "A fascinating story, with intriguing, sometimes quirky characters, a touch of humor, a hint of romantic possibilities, and a look at a profession we don't often see in mysteries." Mysterious Women

" PERMED TO DEATH is a witty and a well-crafted mystery that will have you guessing till the intense end." Southern Scribe
"An amusing tale, buoyed by a likable amateur sleuth and enhanced by the South Florida atmosphere."Sun-Sentinel

 "Fast-paced and jaunty…"Publishers Weekly
Wicked Women Whodunit
Kensington Brava Anthology
MaryJanice Davidson, Amy Garvey, Jennifer Apodaca, Nancy J. Cohen
"Three Men and a Body" Novella by Nancy J. Cohen
Reality show contestant Heather Payne's assignment is simple: get a bed-and-breakfast in Winter Park up and running within seven days. But when "accidents" start plaguing the show, Heather begins to suspect the contestant she's sleeping with may be the enemy.
"Cohen pens a unique whodunit." RT BOOKClub Magazine
"These four amusing amateur sleuth romances are well written fine novellas starring wonderfully "wicked" women solving a murder mystery while finding the right hunk." BookCrossing.com
"Those of us who have read Nancy's Bad Hair Day series know we can count on her to provide a suspenseful mystery with intriguing characters.  The addition of more romance to the mix sweetens the tale." Murder on the Beach Mystery Bookstore
"A steamy, fun read…the interaction between the characters is fascinating and gives a whole new meaning to Reality TV…"WICKED" WOMEN WHODUNIT is a great anthology with just the right mixes of romance and mystery to make anyone happy." Romance Readers Connection
Find an Indie Bookstore: http://www.indiebound.org/indie-store-finder
Find a Mystery Bookseller: http://www.mysterybooksellers.com/