Spring Into Summer Contest
Enter March 24 to April 3 to win a signed hardcover copy of Shear Murder and a $10 Starbucks gift card or one of two ebook copies of Hair Raiser.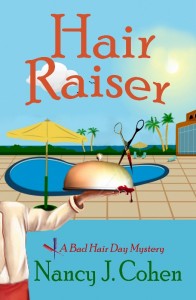 No purchase is necessary. You must be at least 18 years old to enter. By submitting your entry, you agree to be entered into the author's email newsletter list. Your information will not be shared with anyone else, and you may unsubscribe at any time. Winner will be notified by email. Author is not responsible for transmission failures, computer glitches or lost, late, damaged or returned email. Winner agrees for their name to be used in conjunction with the contest on the author's social media sites. Physical prizes for U.S residents only.
Booklover's Bench
Enter April 4-18 to win a $25 Amazon/BN gift card or free books by Booklover's Bench authors.  http://bookloversbench.com/contest/