Hair Raiser
Publisher: Orange Grove Press
Series: The Bad Hair Day Mysteries , 2
Release Date: January 20, 2015
Genre: Cozy Mystery
Available Formats: Audio, eBook and Paperback
Digital: 9780991465545
Paperback: 9780991465552
When savvy hairstylist Marla Shore volunteers for a fund-raiser, she doesn't count on sabotage being on the menu. Participating chefs are dropping off the roster like hot rollers, and she must comb through a knot of suspects to find the killer.
A southern sleuth investigates murder and sabotage in sultry South Florida in this humorous cozy mystery.
When South Florida hairstylist Marla Shore takes charge of a fundraiser for a coastal preservation group, she has to comb through a knot of suspects to determine who's sabotaging their gala event. Participating chefs are dropping off the roster like hot rollers, and it's only through a series of hair-raising exploits that she can tease the truth from the suspects.
Marla's friend, handsome Detective Dalton Vail, believes the culprit might be one of Ocean Guard's esteemed board members. She determines to help him untangle the clues. With a killer on the loose, Marla has a lot more to worry about than which canapés her chefs should serve. She'd better comb through the knot of suspects and catch the saboteur before he strikes again.
Nominated for a Reviewer's Choice Award by RT Book Reviews
"Curl up with Nancy Cohen's stylishly witty and chillingly suspenseful tale of murder on the Florida coast—Hair Raiser is a cut above." Joanne Pence, author of the Angie Amalfi Mysteries
"Hair Raiser kept me guessing until the very end. Hats off to Nancy Cohen and her engaging sleuth, Marla the hairdresser!" Laurien Berenson, author of the Melanie Travis mystery series
Awards & Accolades:
Nominated for a Reviewer's Choice Award by RT BookReviews


Buy Now:
Reviews
"Hair Raiser kept me guessing until the very end. Hats off to Nancy Cohen and her engaging sleuth, Marla the hairdresser!" Laurien Berenson, author of the Melanie Travis mystery series
"A saucy murder mystery by Nancy J. Cohen." Publisher's Weekly
"An easy-to-take series title with the ready appeal of an independent female sleuth and colorful Florida settings." Library Journal
"Nancy J. Cohen gives romance and mystery fans a heady concoction to savor." 4-1/2 stars Top Pick! Nominated for a Reviewer's Choice Award RT Book Reviews
"Readers looking for a stylish suspense novel that's a cut above the rest, will find it in Hair Raiser." Barnes & Noble Ransom Notes
"Hair Raiser is a delightfully saucy tale of sabotage, murder, and culinary chaos." Jackie Minniti, Fabulous Florida Writers
"Hair Raiser is curled around a likable amateur sleuth who can handle a curling iron and murder clues with aplomb…Cohen is on her way to a stylish series." Sun-Sentinel
"Hair Raiser is an entertaining and enjoyable read. Its interesting characters and fast paced plot make it a book that should appeal to many mystery readers. I'm looking forward to the third in the series!" Murder on the Beach Mystery Bookstore
"Hair Raiser is a light, funny, cozy read…I had the serious urge to call my hairdresser and schedule an immediate appointment." Cozies, Capers, & Crimes
"Hair Raiser is suspenseful and engrossing. Cohen has richly filled this novel with quirky characters, with twists and turns that make for a completely satisfying reading experience." MyShelf.com
"Hair Raiser is a delightfully funny yet stylized murder mystery that shows the talent of author Nancy J. Cohen to entertain her audience. The characters are easy to identify with, likable and realistic next‑door neighbors. The brilliantly crafted mystery makes it extremely difficult to identify the villain until Ms. Cohen reveals whom the individual is. The second installment in the "Bad Hair Day" series is a near perfect perm." BookBrowser
"Hair Raiser will keep the reader guessing till the surprising end. And like the best food, it is spicy and will leave the reader with a pleasing fullness." Southern Scribe
"Aside from almost getting killed, [Marla] learns benign secrets from everyone's past, identifies the murderer, and cuts and colors all the major characters' hair." Kirkus Reviews
"Everyone has something to hide, and Marla has a lot to lose, maybe even her life, as she tries to discover the truth." I Love a Mystery
"Marla is determined to see who is cooking up the problems befalling the chefs who have agreed to participate before she ends up in the same deadly recipe. It was fun watching Marla keep one step ahead of the villain and to see her relationship with Lt. Vail progress. I look forward to her next adventure." Remember the Alibi Mystery Bookstore
"The cast of characters is vast and well developed, and adds suspense and intrigue to this brisk, fast-paced mystery until the very end. Ms. Cohen does a terrific job of developing Marla into a spunky, intelligent heroine." Romance Reviews Today
"Hair Raiser is a fast‑paced, one sitting read that may keep all but the sharpest‑eyed readers confused until the very end. The clues are laid out, but presented subtly enough to keep readers on their toes. Marla is a genuine character, concerned with others and her surroundings. Overall, a refreshingly honest new heroine and a solid mystery that is sure to win fans for this fledgling series and have them looking forward to many more Bad Hair Days." The Mystery Reader
"Marla Shore is an engaging and likable amateur sleuth, and the reader is treated to snippets of the way she sees people and the world around her in terms of her profession, a beauty‑salon owner. The romantic subplot adds to the overall charm of this book." Talkcity.com
"Marla's strength is her knack of cross-examining people once she has sat them down in her salon and made a start on their hair."Femaledetective.com
"In a sparkling debut and follow-up, author Cohen has followed the edict to write what she knows about, thus producing two books that will strike a chord with every woman who has visited a hair salon." Mystery Times
Excerpt
Copyright 2000 by Nancy J. Cohen
HAIR RAISER
Chapter One
"You must treat her like a lover. Stroke her tenderly, undress her, and zen unleash your desire when you devour her. I guarantee you will be satisfied."
Chef Pierre Chevalier fixed his class of fifteen wannabe cooks with a stern glare. Holding up an unblemished banana, he waved it in the air like a giant phallic symbol. "Observe ze proper technique. To make Bananas Foster, first begin by peeling ze skin with a gentle hand to avoid bruising."
With infinite care, he pared one piece after another as though stripping off his lover's garments. His gaze deepened as he stared longingly at the naked fruit glistening in his hand. "You see? Look at ze velvety smoothness of zis shaft. Ze moist tip and firm inner core remind you of something, no?" A chuckle rumbled from his throat. "Zis we can put in ze mouth, but only after it is properly prepared."
Marla watched his movements, amazed that such a stout man with a round face could be so sexy. Perhaps that accounted for the popularity of Pierre's culinary classes. "Never mind the innuendos, I'm gaining five pounds just by sitting here," she commented to her friend Tally Riggs beside her.
The chef finished slicing the banana into a bowl. Several more fruits met the same fate before Pierre melted a chunk of butter in a skillet. He added the banana slices, sprinkling cinnamon on top until a delicious fragrance filled the air.
Tally's blue eyes widened in admiration. "I could never get brown sugar to melt that way without scorching the pan."
"Wait until he adds the rum," Marla said. "Did you ever think food could inspire such passion? No wonder people flock to his restaurant. Pierre will be a big draw at Taste of the World."
"Ken and I bought tickets already. He feels it's important to support Ocean Guard's annual fund-raiser. You know how he gets a kick out of joining their beach cleanups. It makes me think Ken is a beachcomber at heart."
"My cousin is getting nervous about hosting the event at her estate. It's less than two months away now. I can't believe I let her con me into working as liaison to the chefs. At least I've met most of the major participants, including Pierre."
As Marla watched, he removed the skillet from the heat. His fingers flew through the practiced motions of warming a measure of rum in a separate saucepan. "Zis is le grand finale, ze moment of ecstasy," he cooed, pursing his lips in an air kiss. "All zat foreplay was just building up to zis eruption of heat. You are hungry, no?"
"Yeah, but not for what you have in mind," Marla muttered. She watched him lift the smaller pot and pour the rum over the bubbling bananas. A sugary fragrance wafted into her nostrils, making her stomach growl. It was nine o'clock on Wednesday evening, and she hadn't eaten dinner yet. Everyone was waiting to sample the dishes after Pierre finished his demos. Let's wrap it up, pal, she thought, folding her packet of recipes and stuffing them in her purse.
Pierre's tall white toque bobbed on his head as he lit a match and tilted it toward the warmed rum in the skillet. The flame had barely touched the liquid when an explosion rocked the room, sending a wall of fire shooting into the air.
"Mon Dieu!" Pierre cried, tumbling backward to disappear behind the roaring flames.
"Quick, everyone out!" His assistant grabbed a fire extinguisher mounted on a wall unit.
Marla hustled away with the others, hovering in an anteroom of the restaurant while someone called for help on a cell phone.
Smoke billowed from the classroom, forcing her and the others to fall back. As time ticked by, sirens wailed in the distance, becoming progressively louder. Coughing and choking, the chef surged from the doorway, leaning heavily on his assistant. His face, reddened and dry, appeared as though it might blister. He cradled his hands against his chest, and she could see that his forearms had been singed. Rushing forward to come to his aid, she halted when his wild-eyed gaze captured her.
"Forget my taking part in Taste of the World. I should have listened to ze warning. Now see what has happened." His voice cracked, and he ended in a fit of wheezing coughs.
"You should have listened to what?" Marla stared in confusion until the smell of burning plastic coming from the classroom reached her lungs. Gasping for a breath of fresh air, she staggered toward the exit. Outside, fire engines screeched to a stop at the curb. Within seconds, uniformed firefighters charged into the restaurant. Several of them headed for the classroom, from which smoke swirled in acrid increments.
"Tell me what you meant," she called desperately as the chef was positioned on a stretcher by paramedics. Herded outside with her classmates, she followed him to the rescue truck.
A raspy breath rattled in his chest as he shook a finger at her. "You'll see, Miss Shore. Ocean Guard is cursed. You had better quit working for zem before something happens to you."
"What's he talking about?" Tally said, trailing after her.
"I have no idea." Marla's opportunity to question him evaporated when the police took charge and began interviewing witnesses. "Come on, let's get out of here," she urged when they were free to depart.
Leading the way, Marla strode along the cracked sidewalk toward the parking lot in the rear. Dimly lit streetlamps cast flickering shadows into the surrounding foliage. Pierre's restaurant, Chez Moi, held a venerable place in downtown Fort Lauderdale behind Las Olas Boulevard. Established five years ago, it drew a young crowd with its trendy menu and lack of early-bird specials. Marla sniffed gratefully at the sweet scent from a Hong Kong orchid tree, eager to clear her nose of the pungent smell of smoke.
"I hope Pierre will be okay," she said, when they were heading west to Palm Haven in her white Toyota Camry. "Thank goodness no one else was hurt." Her appetite had dissipated with the smoke, even though neither of them had eaten anything substantial since lunch. "Do you want to stop for a quick meal?" she offered halfheartedly.
Tally pushed back a strand of wavy blond hair and gave her an apologetic glance. "I'd better go home, or Ken will wonder what's happened to me. Rats, I was really looking forward to tasting that food. Can you believe the rum was that volatile?"
Marla shook her head, eyes focused on the road. "Something else must have been added to the liquor. It wouldn't normally react that way. Didn't you hear what Pierre said about a warning? Bless my bones, I'm really getting concerned."
"I didn't quite catch your conversation."
"He said he should have heeded the warning, and if I didn't withdraw from helping Ocean Guard, I'd be sorry. This isn't the first incident. I'm beginning to wonder if someone is sabotaging my efforts."
Audio
Narrator: Mary Ann Jacobs
Audio Publisher: Orange Grove Press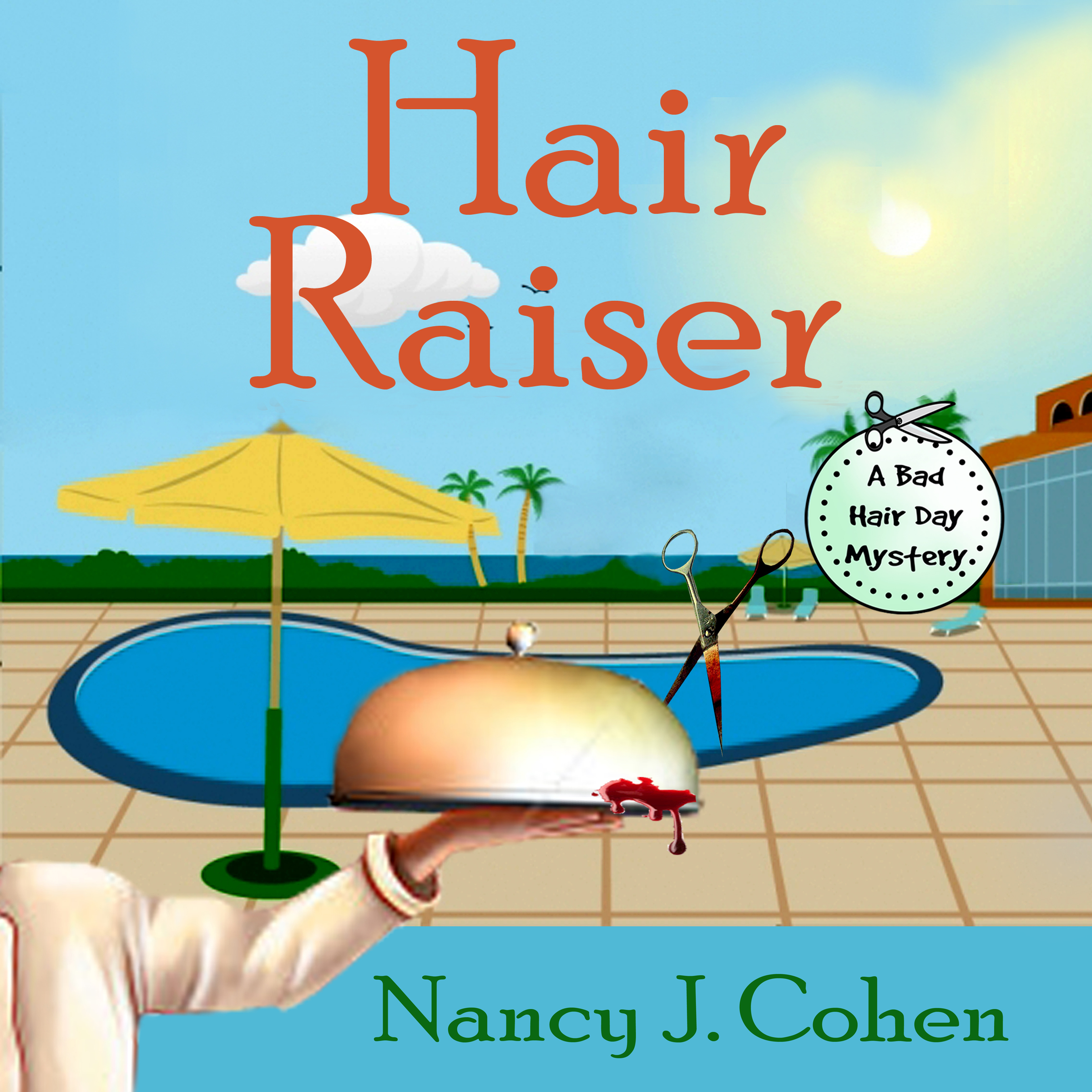 Click to play a sample
Special Features
Alternate Covers